OLD DOGS NEW TRICKS




OCTOBER CLASS LESSON




Pumpkin - part I




This lesson is in two parts. This is the homework assignment: You are a pumpkin Farmer. You have these mounds of pumpkins that you want to sell at the next local agricultural show, and you'd like to create some flyers that will make the public aware of your glorious pumpkins, and that you will be selling these quality pumpkins at the fantastic rate of (name your price) at the show... and most importantly, that these pumpkins are even carved in time for Halloween! What a deal! The name of the Agricultural show is Buds 'n Spuds. (They have flowers as well as fruit and veg). Location of show: Your choice. Date: Your choice. Name yourself or your farm or your homespun enterprise on your flyer as you see fit. Add any other personal details that you think would be fitting to this flyer. Size of flyer: Width 500px x Height 600px Colours - Ive attached a colour scheme .. up to you if you'd like to use it, see attached gif file. Use your pumpkin from this week's tutorial as part of the overall design for your flyer. Take your time to think it through and *really* imagine that you are trying to sell these carved pumpkins!! Use whatever shapes and methods you desire in order to design a flyer that will encourage people to come to your stall at Buds 'n Spuds buy your carved pumpkins - so much so that they are even prepared to sleep outside your stall the night before to make sure they dont miss out! Again, please remember to describe how you created your image; this gives us the opportunity to learn from each other.

Downloads for the lesson :
Patterns needed by PSP 6

The tutorial can be found Here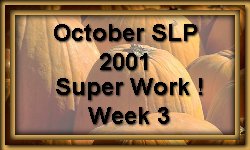 Thanks MaggieA1.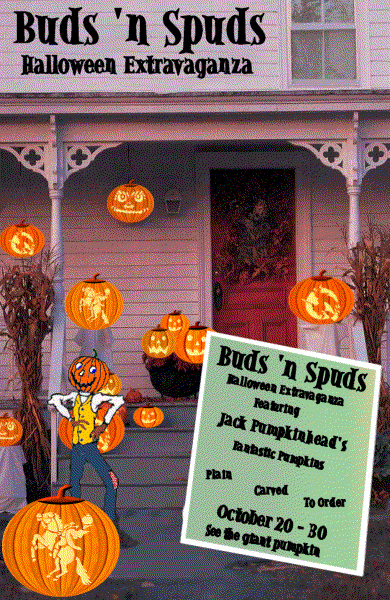 This is the pumpkin assignment
Click here to see the separate pumpkins
If you have questions or comments, please E-mail me.